I am home for my sister's wedding and some much needed time with family and friends, most of whom I have not seen in 2+ years!! So while I plan to be checking in occasionally and maybe blogging a little, Jon and I have a lot of things we want to cram into a 3 week window while we are home. We aren't planning another visit to the states until our return home in mid 2012! Here are some of the many things we hope to do during the 3 weeks:
1. Obviously, I will be doing all the wonderful duties of not only sister to the bride, but a bridesmaid. Including throwing a bridal shower myself, attending another pajama party and a ladies luncheon in my sister's honor- complete with getting my nails done at the salon with the ladies before the luncheon, the rehearsal and dinner, then the actual wedding itself!
2. At my sister's request, we will be having either a double date with our men, or just some sister bonding time. I believe we will be going to Seattle!
3. At my insistence, Jon and I will be getting a date night of our own. If finances and timing permit, it will be a dinner cruise that we have both longed to go on. In fact, it the same one he had hoped to propose on if I hadn't been so impatient!
4. This is not only a trip to go for the wedding, but also our own family vacation. We haven't been on one of those in a long time!! So we are hoping to take the kids up to the Woodland Park Zoo in the Seattle area, which I have never been too. As well as the Aquarium which is in downtown Seattle- though they will probably need to be separate trips, because we will take the ferry on foot for the Aquarium. Though Jon was disappointed I had taken Natalie on her first ferry ride the last time just us girl visited, this time it will be Zachary's 1st time and we will all go!
5. Family pictures!! I already found and bought coordinating outfits for all of us, to do some in studio pictures at JCPenny. This is were we used to do all our pictures of the kids and family, but there isn't one in Guam! I have this framed print from them in our hall from right before we left, but it is missing our newest member- so we really hope to get something similar to add beside the earlier one when we get home! (Though I am still hoping to also do family pictures on the beach in Guam before Jon leaves for 3 months next year, I don't think you can ever have too many pictures!!)
6. A girls night, or day, with my best friend, Shannah!! We have been best friends for over 10 years, and I miss her a whole lot!! I plan on spending as much time with her as I can between all the wedding stuff and other plans, as well as have Natalie spend some time with Shannah's 3 girls!
7. We will be celebrating Christmas on Thanksgiving with my family! I am looking forward to it, even if there won't be a tree or many decorations up yet, we will still have the big meal surrounded by our family, and exchange gifts all together instead of through the mail!
8. A tradition my mom started when I was young, was that every year we would go see Zoolights at the Point Defiance Zoo & Aquarium. In general I spent a lot of time there growing up with my mom and sisters, so it will be a great blessing to now share that with my kids. Zoolights is a lot of fun, it opens the weekend after Thanksgiving and the whole zoo is decked out with Christmas lights! We bundle up, go buy hot chocolate and walk through the maze of displays lighting up the night! I have missed that, I haven't been to it in about 6 years!
9. I will be getting my craft on! I am looking forward to not only trying to creatively and inexpensively decorating for my sister's bridal shower, but also picking up the stuff I want/need in order to decorate Zachary's toddler bedroom- monkey themed! I almost all of the decor in my daughter's ladybug themed bedroom when we switched her to her toddler bed and took out the old nursery decor, and I can't wait to do the same for my son as he approaches 2 years old! And also I will be finishing up last minute touches on the
homemade Christmas gifts
for my family. We don't have a very great craft store here on Guam- there is one, but the selection isn't great and it is seriously expensive, so this is a big priority for me, I miss running to Michael's (or even Walmart sometimes) for all my crafting needs!!
10. I will also be trying to visit with many other friends I haven't seen in a while, including my friends
Chris
, Victoria, and Bethany. As well as family, my brother Daniel and my niece Miranda, and all the family attending my sister's wedding.
This post is linked to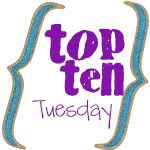 .