So this week I thought I would share about 10 books from my bookshelf I
need
to finish reading! Most I have started and just set aside and haven't gotten back too. They are not forgotten though. I see them screaming at me from amongst the tattered and well loved books. They are shiny and new, no pages folded down yet, a crisp spine I have yet to flatten with some weights to keep open, pencil and highlighter free...
so far.
Some have collected dust from the years up there, some are barely out of the Amazon box they shipped in. I just love books, and apparently too many then I can read at once!! So here is my rather varied list in no particular order...
1.
Beautiful in God's Eyes
by Elizabeth George. This is the one I am currently working my way through, little by little. It is a very easy read, but to fully glean all I can from its pages I try to read it when I have some quiet in the house, the reason I fail to get through it very quickly!! It is a book about the Proverbs 31 woman of virtue that has recently become some of my key verses from the Bible, as I strive to be a better wife and mother to my family.
2.
The Lucky One
by Nicholas Sparks. I LOVE
love.
So I enjoy many of Nicholas Sparks' novels. They may be a bit predictable, but I am usually quickly sucked in by the thoughts of 'knights' rescuing their 'damsels in distress'. Of course there is no armor in his novels, they are definitely more modern romances based in our current time. And most are centered in some small town, fictional or non, in North Carolina. Through these books I have fallen even more in love with small town life and particularly the coast of North Carolina!
3.
Experiencing God Around the Kitchen Table
by Marilynn Blackaby. I also have her husband's book,
Experiencing God
, waiting to be read on my book shelf. It has lived there since I was 17! My love of a large library and God started very early!! This book though is a new edition to it within the last year. It is a Focus on the Family book, which was why I bought it. I find the little I have read to be so encouraging as I am making my way through life as a homemaker, wondering
how can I minister when I am at home all day with 2 young children?
Another easy read, that you can jump into at any point in the book that interests you, put it down and come back to another section when it appeals.
4.
Lose Your Mummy Tummy
by Julie Tupler. This is one of my newest additions, less then a month old. I have skimmed it, but it is not exactly what I was expecting. Still I plan to read more into it, preferably very soon, as I endeavor myself to
lose my mummy tummy
...hopefully in time for my sister's November wedding.
5.
Romancing Your Husband
by Debra White Smith. I have had this in my collection since February. I have read the first 2 chapters and found it quite interesting. I have always been under the impression that the man should be the one to romance the lady, but it can go both ways! In fact, if I expect him to be romancing me, I should be trying to romance him first! This has helped to remind me of that age old wisdom-
do unto others, as you would have them do unto you
. There is also a 'companion' book to this for the guys-
Romancing Your Wife
. My husband has it, but he is even worse about reading books then I am!!
6.
Dare to Repair
by Julie Sussman and Stephanie Glakas Tenet. I was given this at a Navy wives meeting once when we first moved to the East Coast. I have skimmed it but I have not used it yet, though I am sure soon it will become regularly pulled from the shelf as my husband gets deployed next year. It gives simple instructions on fixing anything from unclogging a toilet to cleaning a clothes dryer's hoses and vents to freeing someone locked inside a room. It is specifically for women written by women. So far, I haven't had to pull it out because I just wait for Jon to fix the many tasks it lists in the book, but when he is unavailable and the building's maintenance is gone for the day, this book sure will come in handy from the basic to the more complex jobs around the home. Now if only they made one for simple repair on the car!
7.
"Don't Make Me Count to Three!"
by Ginger Plowman. I actually picked this book up from a clearance section in a Christian bookstore shortly after Natalie was born. It looked interesting and I figured one day I would need it, but alas it has sat unused on my shelf until recently. It is actually just under
Lose Your Mummy Tummy
on my current reading list, only because the tummy thing will take some time and I don't have much before November! I was reminded of this useful tool in the last parenting class I took at my church. I couldn't believe I actually already owned a book that was recommended! I am anxious to put it to use as it gives very good biblical advice on discipline
and teaches how we can use scripture for reproof. It also has a handy chart in it for some bible verses to reference on certain topics as well an appendix on
How to Become a Christian
,
How to Lead Your Child to Christ
, and
How to Pray for Your Child
.
8.
The Four Seasons of Marriage
by Gary Chapman. I bought and read Gary Chapman's
The Five Love Languages
long before he came to do a conference at our church while we lived on the East Coast. So I was excited to see some of the other books he also had to offer. This one I found particularly interesting. It shares about the four seasons a marriage may go through and how to identify where you are at in your marriage, as well as provide helpful strategies to get through it and build a stronger commitment between you and your spouse. As someone who is in the 'summer' or 'satisfied' season at the moment, I may be a little complacent as I put off reading it.
9.
Simply Sweet
from Pampered Chef. My latest addiction is Pampered Chef, as I host yet another
party
this week! In my last order I bought this book, one of their newest in the current catalog. I was enticed by the scrumptious looking pictures of
Strawberry Cream Cupcake Dessert
and
Giant Rocky Road Cookies
, and I just had to have it! That was about four months ago and I still have not ventured into the kitchen to master any of the delicious recipes hidden in its pages. Of course I may put it off a bit longer as I try to learn a little self control in the area of my sweet tooth. But still one thing I truly love about the Pampered Chef cookbooks is the pictures! I can't stand the cookbooks in boring black and white, and few if any pictures. I need to be able to
see
it if I am going to
crave
it!
10.
Fancy Nancy: Poet Extraordinaire
by Jane O'Connor and Robin Preiss Glasser. Well, technically, this one is not on my bookshelf and it isn't for me. It is actually spending its days in the bottom drawer of my nightstand as an intended gift for my daughter on any special day if she is being distinctly well behaved and needs a new book to read. I actually have more then one tucked away because I tend to buy a few at a time, only showing one to her on each occasion, and stashing the rest away. This one I, as a poet myself, was quite excited about owning! I will admit,
Fancy Nancy
has become a favorite of mine and I am just thrilled that Natalie has latched on to my own little obsession. I love the colorful and bright illustrations, and each book teaches a good little lesson as well as some big fancy words to my daughter. In
Poet Extraordinaire
it teaches also about different types of poems and poetry. What a fun way to teach the subject to young girls!
Well those are just a few of the books on my bookshelf. Maybe another time I will share some more! I just never seem to get enough of good books. I love to have not only a range of titles, but also books in a wide range of subjects that interest me, from books about running bed and breakfasts, to ancient Egypt, to
healing after sexual abuse
, to the classic novels from years before, each is a wonderful treasure to me.
This post is linked to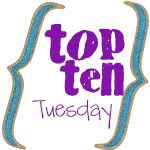 .